Bitcoin
Bitcoin re-testing $10,500 bodes well for the coin
---
Bitcoin's current rally is possibly coming to a temporary halt as August 2020 draws near a conclusion. Since the start of the month, the narrative and sentiment surrounding Bitcoin have been positive, and the bullishness has rubbed off on other altcoins.
After surpassing past resistance at $12,000, Bitcoin recently clocked in a value of $12,400 briefly, after which a massive $1000 slump was seen on the charts. The depreciation was significant, and sentiment surrounding Bitcoin's bullish rally has necessarily weakened since the dip.
According to the chart, CME Bitcoin Futures recorded significant shorts on leveraged funds as the funding rate incurred by Leveraged trades were negative at the moment. It is a clear indication of the fact that a majority of investors were now betting against Bitcoin's bullish rally.
During the recent decline, support range of $11,400 was tested. For the time being, it has held strong; Bitcoin is aligned for another re-test of the ascending channel.
---
If support is breached during its next drop, likelihood of Bitcoin dropping below $11,000 increases substantially and $10,500 could be a possibility in September.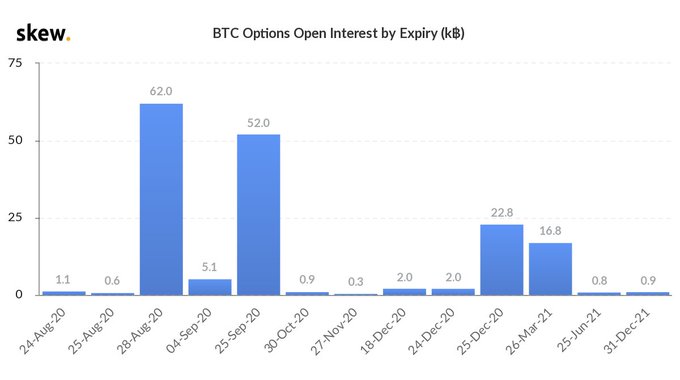 According to Skew charts, $62,000 Bitcoin options are expiring on 28th August. If this triggers a massive move during the last week of August, the conversation could be entirely different in September.
Does a $10,500 re-test completely disrupt Bitcoin's long-term rally?
As a matter of fact, it might be the exact opposite.
Rather than looking at the short-term picture for Bitcoin, it is important to note the long-term prospect of the market. Bitcoin would complete a month above $10,000 on 26th August, which is a major boost, considering it struggled to breach past this level back in May 2020.
Bitcoin's market is taking shape steadily, which is necessary for a bullish rally that needs to be sustained for a longer period of time. Bitcoin's surge in August was rather erratic as it marched past key resistance, so dropping down to $10,500 allows the asset to attain healthy correction and solidify its local bottom.
Hence, unless we tumble below $10,000 before the end of August, Bitcoin's long-rally is still overall bullish, if you can keep your eyes on the bigger picture.
---